But instead I am posting about inane stuff, plushies, and, as always, fangirling Hetalia.
♥
My dad unexpectedly came home from Singapore (where he's been working for 4 months) and stayed for the weekend. So. We had a fun weekend. Whole family and all that. ♥ I was pretty glad I didn't have any pressing work, so I was able to enjoy that time with my family.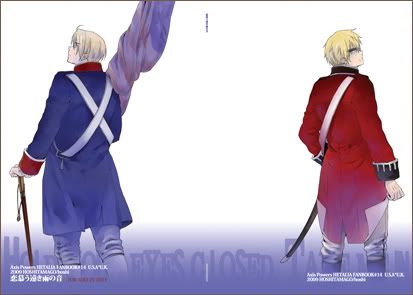 Yeah.
Hoshitamago's releasing this
. It's the sequel to another one of the circle's/artist works (which I bought recently).
I WANT IT SO BAD. LIKE SO SO BAD.
But I don't even know how to buy this sort of thing direct from Japan. /sobs I guess I have to wait until someone picks this up and resells it?
Also, random question:
Would anyone be interested if we put up a tutorial for plushies? Well, not exactly the plushie we make but some other kind of it.
we were thinking for mochimerica but we'll see.